There used to be a time when perverts were on the down low. They hid in the shadows with the rest of the creeps and weirdies. But these days some of them believe that they actually have the constitutional right to be creepy.
A Massachusetts man claims he has the constitutional right to take "upskirt" photos of women in public. Michael Robertson, now 31 was arrested in 2010
after trying to take cellphone photos up women's dresses on the Boston subway,


The Andover man is charged with two counts of photographing an unsuspecting nude or partially nude person, and faces more than two years in jail if found guilty.

On Monday, Roberton's lawyer, Michelle Menken, argued before the Massachusetts Supreme Judicial Court that Robertson did not commit a crime because his right to snap photos up women's skirts is protected under the First Amendment.

"If a clothed person reveals a body part whether it was intentional or unintentional, he or she can not expect privacy," Menken said in court. She went on to say that "peeping Tom" laws protect people from being photographed in bathrooms or dressing rooms, but do not protect clothed individuals in public areas.

She also argued he could not be guilty of photographing a "partially nude" person because the women in the photos were fully clothed, and their genitalia was covered by underwear

"What he saw was in plain sight. He did not place his camera directly up a women's skirt. He saw what was in front of him," she argued.

State Attorney Cailin Campbell countered that subway passengers have an "understandable expectation" that they will not be "photographed like that in that kind of setting."

In 2006, a 34-year-old man in Oklahoma was acquitted in a similar case when. After he stuck a camera under a 16 year old's skirt at a Super Target store and snapped a picture of her underwear, the court ruled that the teen did not have "a right to a reasonable expectation of privacy."

However, the ruling caused such public outrage that the state eventually passed a law explicitly making it illegal to take photos of a person's private areas in public without his or her permission.
As the father of two daughters I believe that it is my constitutional right to slap the hell out of any jerk with enough balls to take an up skirt photo of one of my daughters.
I said it before & I'll say it again. Bacon makes everything better. Add bacon and
cheddar cheese to anything and it's as close to paradise on a plate as you can get. But who in their right mind wants to smell like breakfast?!
From the makers of such classics as bacon condoms?!?!?! Bacon
lube?!?!?!
and bacon shaving cream?!?!??
comes Power Bacon
, a deodorant with the scent of..........bacon.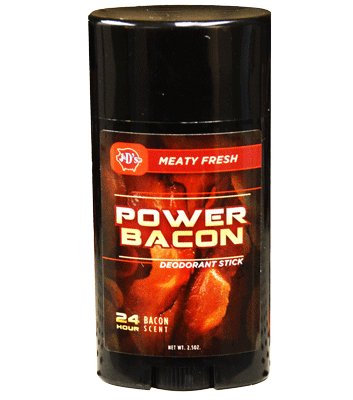 "Power Bacon deodorant is designed specifically for those with active lifestyles or people who just sweat like pigs," reads the product page on J&D Foods' website, and lucky you, the stuff is on sale
for the bargain price of just $9.99.
Wouldn't it be cheaper to just buy a pack of bacon, fry it up, and rub it under your arms. Gross, I know. But probably just as effective.
The only thing worse than losing your home, and all of your worldly possessions in a fire is getting a bill from the Fire Derpartment for putting out the fire. From the looks of the photo above they didn't do a very good job of saving the actual house. It's looks to me like they passed buckets of cold water to each other and tossed it at the house.
An Arizona couple recently left homeless when their mobile home burned to the ground couldn't believe their eyes when they received a bill for nearly $20,000 from a private fire department.
"I couldn't believe it," Justin Purcell told the local media. "We lost our home, we just had a baby and now we're going through this. It's crazy. We don't know how we are going to come up with the money."
Justin and Kasia Purcell's home went up in flames on the night of Aug. 12. The Purcells, who were staying with relatives because they were preparing for the birth of a child, were not home at the time of the fire. A neighbor notified them of the blaze, and they made the 45-minute drive to their home in Surprise, a city in Maricopa County.
Surprise?! I guess that explains the bill.
OThey arrived just in time to see firefighters extinguish flames from what was left of their house. The home was a total loss, and the cause of the blaze is undetermined.
Two weeks later, on Aug. 27, the couple received a bill from Rural Metro Fie Department for $19,825. The bill included charges of $1,500 per fire truck and $150 dollars per hour for firefighters.
Justin Purcell said he was shocked by the bill and did not understand why he was receiving it, considering he and other local residents pay a fire district assistance tax to help fund volunteer fire departments. However, that tax, he soon learned, does not cover Rural Metro Fire Department because it is an independent agency.
The Purcells' next step was to contact their insurance company.
"I was told by our insurance company that they don't cover fire departments in county areas," Justin Purcell said. "I asked our insurance [representative] what the typical city fire department charges them and he said he had never seen a bill for anything over five or six thousand dollars."
When contacted on Monday, Colin Williams, the public information officer for Rural Metro, said the bill is justified.
"This family, like many others, elected to not pay their annual fire service bill," Williams said in an email. "Others in their area pay Rural/Metro for fire protection."
The annual subscription, according to Williams, is "roughly $290 per year." However, a subscription bill from a neighbor of the Purcells shows the fee to be $474 per year.
The Purcells claim they would have paid for the subscription had they known it existed.
"We would have paid it in a heartbeat," Kasia Purcell said. "We never received a letter from them."
Williams said the family elected not to subscribe.
"Of course they knew they had an obligation/option to pay our annual subscription. ... They, along with others across Arizona, in areas we serve, elected to ... roll the dice that they would not have a fire they lost," he said.
Talk about cold blooded!
"We provided service to them and now they are mad. This is not new. We bill for unsubscribed fires all of the time. ... Why should these people ride the coat tails of their neighbors who elect to have a fire service contract with us?"
According to media sources, people living in the Purcells' neighborhood were clueless about the Rural Metro subscription plan until after the Purcells' fire.
"Coincidentally, we all received a bill from Rural Metro fire informing us we have no fire coverage in our area, so they highly suggested we finally begin paying some fire coverage that we didn't currently have," the Purcells' neighbor, Kelly Miller, said.
Rural Metro has acknowledged they did not market subscriptions in that area until recently.
It should also be noted that Surprise firefighters were first on the scene at the Purcells' mobile home fire. They arrived approximately 13 minutes after the fire started. Their firehouse is located about seven miles from the Purcells' home. Rural Metro, the Purcells said, did not arrive until much later. The Rural Metro firehouse is approximately 20 miles away.
"They weren't even the first responders," Justin Purcell said. "We arrived 45 minutes after the fire started, and it was pretty much extinguished by Surprise. Rural Metro showed up after we were already there. They basically did a mop-up saturated the hotspots with water."
WOW!