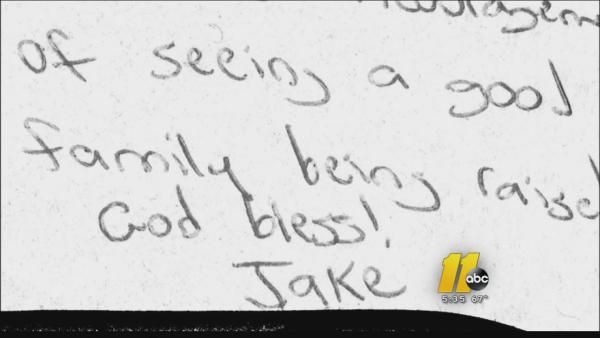 This story proves that you never know who's watching, and you never know who's looking. But you can can be sure that somebody always is.
A single wrote to her local news station to share a story of what happened to her family at a Pizza Hut in Durham.
The Raleigh woman said the past few years have been very trying for her family. She is going through a messy divorce, has had to move several times, and had to take a year off from attending college. She said recently she found out that her 4-year-old daughter has bullying tendencies, and her 6-year-old son is living with Asperger's and ADHD.
Every Friday night, the woman takes her family on a dinner tour where they eat at a different restaurant each week. On Friday, the family went straight from daycare and after school to the Pizza Hut off Sherron Road.
It was around 6 p.m., and her son's medication had long worn off. She was left with parenting lessons she had learned from classes and reading.
She said after they were seated, she saw a young man seated alone in a nearby booth. As she would normally do, the mother apologized for how loud the children were going to be and asked him to forgive them.
He told her not to worry because he had three children of his own and could relate.
The mother and her children went on with their meal. The woman practiced her usual engaging behavior trying to keep the kids occupied and on their best behavior.
After the young man in the adjacent booth finished his meal and left, a waitress and the manager came over to the family's table.
The waitress told the woman that the man asked for paper and a pen shortly after the family was seated. Before he left, he paid the family's bill and left them with a Pizza Hut gift card.
The woman said with tears streaming down her face, she was handed a three page letter the man had written. Now with the waitress and the mother both crying together, they started to read the note:
"I do not know your back story, but I have had the privilege of watching you parent your children for the past 30 minutes. I have to say thank you for parenting your children in such a loving manner.
I have watched you teach your children about the importance of respect, education, proper manners, communication, self control, and kindness all while being very patient. I will never cross your path again but am positive that you and your children have amazing futures.
Keep up the good work and when it starts to get tough do not forget that others may be watching and will need the encouragement of seeing a good family being raised. God bless! -Jake"
SIDE BAR: Does this guy look simple, or is it just me?
There are loser's, there are low life's, and then there's Andrew Palmer.
The Baltimore man dubbed the "Dine and Dasher" by police is at it again, authorities and restaurant owners say.
Andrew Palmer, 46, notorious for racking up food and drink tabs at area restaurants, then faking seizures to get out of paying the bill, was arrested early Monday after owners said he refused to pay a $50 bill at Viccino Jay's Italian Gourmet in Baltimore, Maryland.
The night before, he went limp at upscale barbecue restaurant Oliver Speck's in Harbor East when it was time to settle up on a $90 tab, according to the owner and a patron.
"The paramedics showed up and said, 'Looks like our guy's back,'" said Oliver Speck's chef Jesse Sandlin. "He would not wake up, and they were like, 'Come on Andy, stop faking.'"
Police say Palmer, who has a career rap sheet more than 90 arrests long and has been found guilty of petty theft at least eight times in the past year, is making the rounds again.
He's being held at Central Booking in lieu of $1,500 bail. His most recent public defender did not return a message seeking comment. Court records list Palmer as homeless or at an address on South Broadway that no longer exists.
It's not that prosecutors haven't been able to win convictions against Palmer. It's that the crime, in most cases, theft under $100 doesn't carry a large enough penalty to deter someone with a taste for good food and drink who's willing to do jail time, and because it's a nonviolent offense, those who are found guilty serve only a fraction of their sentences.
Officials with the Baltimore state's attorney's office could not be reached for comment, but police accounts from recent cases tell a familiar story.
In December, police say, he had the $24.99 shrimp platter and four alcoholic beverages at the Inner Harbor's Bubba Gump Shrimp Factory. "This is an ongoing problem with Mr. Palmer in the downtown area," Officer Daniel Sexton wrote in charging documents.
In January, police say, he went large at Sullivan's Steakhouse, ordering the chicken piccata with a lobster add-on, a 22-ounce ribeye steak, four Blue Moon beers, three Bacardis and, for good measure, a coffee. It led to his second arrest of the week.
"Palmer's seizure occurred when he was confronted about his unpaid bill as he exited the restaurant," Officer Michael McGrath wrote in a statement of probable cause. McGrath added that Palmer is "well known to local restaurants and members of the Baltimore Police Department."
The unpaid tab: $160. The sentence: one year in jail.
He was out by July. That month, police say, he had three Blue Moon drafts, an espresso martini, two beers from Union Brewing Co. and three Stoli Oranges at the Admiral's Cup, good for a $72 bill, then went into the back of the Fells Point restaurant and had what appeared to be a seizure. In writing a report, the officer listed Palmer's alias as "Dine and Dasher."
Court records show the case was dropped, but he received a citation for another theft charge a few days later and got 90 days in jail.
Matt Belardi, 37, was hanging out at Oliver Speck's in Harbor East on Saturday night when he said patrons noticed the man at the bar mumbling to himself.
Sandlin said Palmer was dressed normally and was pleasant. He had ordered the pork chops, macaroni and cheese, soup and several drinks. A bartender believed he was getting too intoxicated, and Sandlin said to cut him off. She said he collected his things, then put his head down on the bar and passed out.
Belardi was skeptical. "You could tell he wasn't really passed out. He had gone from zero to blackout in the snap of a finger," Belardi said.
Sandlin called police and said the officer who arrived said the best she could do was write him a citation, and it is unclear whether one was issued. No such charge for that night appears in the state's court records database, and a police spokesman could not say late Tuesday what action, if any, the officer took.
The next night, police charged Palmer with refusing to pay at Viccino Jay's Italian Gourmet, near Penn Station.
"He was just watching the football game, eating food, and when it came time to pay, he didn't have any money," said manager Jeri Shuck, who said Palmer didn't require medical attention that night. "It's a horrible thing for someone to be doing, but for him it's a pretty good situation -- get a free meal, get locked up, get a free meal. Just a running circle."
Sandlin's frustrated that authorities can't put a stop to it.
"If this guy came up and mugged me on the street and took $90 from me, he would've gotten arrested," she said.
Unarmed robbery, when something is taken by force, carries a maximum penalty of 15 years in prison, but theft, a property crime, brings a maximum of 90 days.
"What's the difference in the end?" Sandlin asked.
Palmer has been convicted of ripping off the Capital Grille, the now-closed Burke's and Shucker's, Maisy's, and restaurants in Anne Arundel, Baltimore and St. Mary's counties.
In 2010, prosecutors beefed up the charges, combining a slew of cases into a theft scheme charge that brought a heavier maximum penalty. He was convicted and sentenced to 18 months.
When he was released last summer, police put out an alert to restaurants that Palmer was back in circulation. And over the course of seven days in late July and early August, Palmer was arrested three times.
Two of those cases included charges of making a false call requiring an ambulance response. That carries a maximum sentence of five years in prison, but prosecutors dropped the charges.
The city Fire Department said it has to respond to the 911 calls related to Palmer and eat the costs.
"We treat each patient according to the complaint, signs and symptoms," said spokesman Ian Brennan. "In the case of an uninsured individual or in rare repeat cases like this, the bill usually goes unpaid."
When customers skip out on the tab, Shuck said, it typically comes out of the server's paycheck. Belardi said Palmer is also distracting paramedics from more serious calls.
"I don't think the guy understands that he also may be tying up EMS paramedics from helping somebody who really needs it," the Oliver Speck's patron said.
In the meantime, Sandlin says, restaurateurs need to spread word about Palmer so he is easily recognized and establishments can refuse service. She has posted his mug shot on her Facebook page.
Had Palmer went to "Roscoes Chicken and Waffles" and pulled this nonsense, I'm sure that this story would have ended much differently.
After you read this story you might think that what this Elmer Fudd look a like did was a little extreme. But let this be a lesson to anyone who has the slightest inclination to do anything stupid. You never know when or how it could come back to bite you!
A man in still Springs, Tenn., is accused of shooting a teenager multiple times after he toilet-papered a school principal's yard.


Franklin County Sheriff's Office spokesman Sgt. Chris Guess said suspect Dale Bryant Farris, 65, fired at least two shots, with [shotgun] pellets striking the teenager in the right foot, inner left knee, right palm, right thigh and right side of his torso above the waistline.


The home being toilet-papered wasn't Farris'. It was the residence of Huntland School principal Ken Bishop, who declined to press charges against the teen or his friends, who were allegedly involved in the prank.

"We want everybody to have a good time, but we want everybody to be safe," Guess said. "If residents believe property is being vandalized "they need to get on the phone and call law enforcement."

According to the local media the teen who was injured, declined medical treatment.

Farris is charged with aggravated assault and reckless endangerment.

His court date is scheduled for Dec. 5.