Hmmmm. There's freaky, and then there's nasty! You decide which category this story falls into.
Side Bar: Remember the old saying, "a face only a mother could love?"
A couple in Florence, S.C., decided to take "Freaky Fridays" to the grass last week when they allegedly stripped down in someone's backyard and began doing the wild thang.
The cops were called to a home in the 300 block of Warley, after a passerby spotted the two horny toads going at it. When an officer arrived on the scene, he saw Jamal Dixon, 25, and Joy McFadden, 31, having sex around 11:30 a.m., Florence Police Maj. Carlos Raines said.
They must have been high. I wonder if they smoked grass before they started rolling around in it.
Dixon and McFadden were charged with one count each of indecent exposure.
They were booked at the Florence County Detention Center in Effingham, where they remain in custody awaiting a bond hearing.
WHY?!...WHY?!...WHY?!
He is sooo wrong for this!
As hard as it is to believe, there are some Christians out there who have never sinned, and every once in a while they come down from their spot at the right hand of the father to put all of us mortals in our places.
Rodney Wills, 26, was relieved of his duties as the pastor of Mt. Salem Baptist Church in North Carolina after church deacons learned that he attended a concert headlined by corrections officer turned rapper, Rick Ross.
Wills was the pastor of Mt. Salem for almost 4 years before the deacons voted 11 to 3 to cast him out into the world.
"We cannot have our leader supporting people of this world who are tearing down the kingdom of God," said Deacon Miles Langley.

"We know that many saints will have mixed opinions from our actions, but this is not how we do things here at Mt. Salem. We cannot have a pastor praising the world one minute then praising the Lord the next. Period," Langley continued.
According to Langley, this isn't the first time that Wills has been caught getting his diddy-bop on to questionable rap. Younger members of the church spotted him attending a Lil Wayne concert about nine months ago.
Deacon Langley who also attended the same concert with his 20 year old boy toy, expressed his disgust for Wills behavior, and his disdain for his deviant lifestyle.........Naw just kidding!
I guess some criminals do have a heart.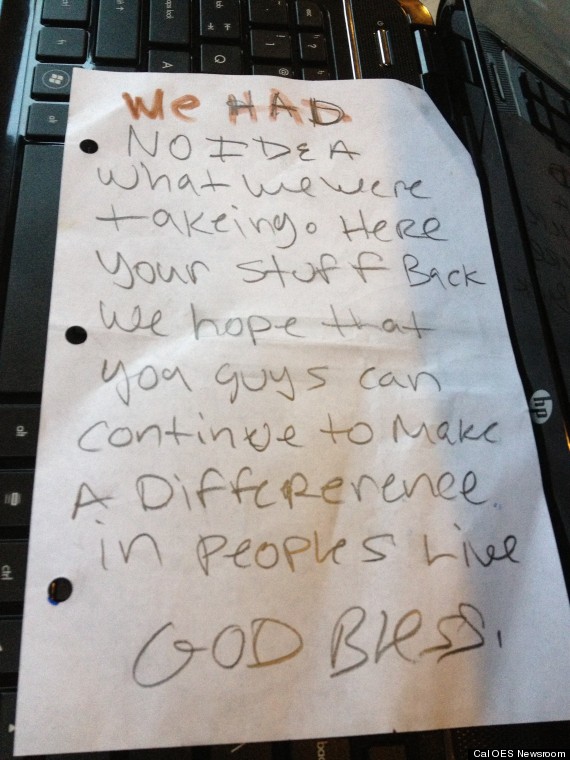 When burglars in San Bernardino County, Calif., realized the computers they'd stolen were from a nonprofit that helps victims of sexual violence, they returned them along with an apology note.
The thieves broke into the San Bernardino County Sexual Assault Services office on the night of July 31, according to a press release from Cal Governor's Office of Emergency Services (OES). Candy Stallings, the nonprofit's executive director, said the burglars had shimmied between floor boards and walls to get past the building's high security system.
They also clipped multiple alarm wires. Within minutes, six computers with hard drives and a bag of valuables were taken.
Police called Stallings the next morning around 4:30. They told her more suspicious activity was taking place at her office.
But when Stallings arrived, she found a surprise.
"All my stuff was at the front door." she told the station. "There was a shopping cart, and there were the PCs that were taken, there was the laptop. Everything was there."
In that laptop, an investigator discovered the note. It read:
We had no idea what we were takeing [sic]. Here your stuff back. We hope that you guys can continue to make a difference in peoples [sic] live. God bless.
"We were all pretty shocked," Stallings added. "You've got to be kidding me. I was in disbelief. I got chills. I got very emotional."
"This is the first time in my career I have seen the return of stolen items," San Bernardino Police Lt. Paul Williams told NBC. "It appears the guilt of taking the property caused the return of the items."
PR