The English media reported Turnquest's amazing feat, and it appears that educational excellence runs in the family, her sister, Kandi also passed the bar exam at 22-years-old. The average age of lawyers taking the Bar Professional Training Course is 27.
Although Turnquest is qualified to work in the United Kingdom, she wants to return to America to qualify for the Bar there as well.
"I am honored to be the youngest person to pass the Bar exams but, really, I was not aware at the time what the average age was," said Turnquest, who is from the town of Windermere, Fla. "I didn't fully realize the impact of it."
Turnquest also has an opportunity to qualify for the Bahamas Bar, a goal of hers since that is her parents' native country. If she does want to work in the UK, however, she would have to work at the apprentice level for at least one year before being offered tenure.
Turnquest hopes to become a fashion law specialist. At her current rate, there's no reason not to expect she'll be successful in her aims there as well.
Irony is probably the most over used word in the English language. Often taken out of context and misused. But this story is the definition of irony.
Detroit EMS technician Joseph Hardman reportedly suffered a heart attack as he was performing CPR on a patient en route to the hospital last Friday.
While reportedly performing CPR on a patient, Hardman began experiencing a heart attack of his own. Instead of panicking, Hardman reportedly continued to administer the life-saving technique on the heart patient until they arrived at the hospital and then he admitted himself in to the emergency room.
Now that's dedication. I'm one of the nicest guys in the world but if it came down to my heart attack versus his, lets just say..........he would have been in big trouble.
Upon his arrival at the medical facility, Hardman was then examined and rushed in to surgery, where he had to undergo a cardiac procedure. According to EMS union rep Joe Barney, Hardman "nearly died and had to go to surgery."
Hardman's patient survived and is reportedly recovering only three beds away from him at the hospital.
And now, for the freak of the week. Or in this guys case, super freak of the week.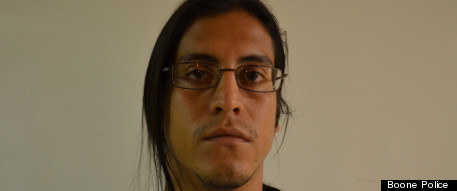 Looks like this dude definitely rubbed some people the wrong way.
Julio Yanez of Boone, N.C., was
arrested Aug. 15, after he allegedly entered a woman's unsecured apartment, got in her bed and tried to give her a back rub.
According to WXII, the 29 year old had already been arrested for similar offenses twice before.
In a July incident, the victim told Yanez to leave, but he refused and tried to giver her a back rub. The victim rebuffed him, then asked Yanez to leave again, according the local media. He was later arrested.
After his July arrest, additional women came forward and claimed Yanez had entered their rooms and tried to give them back rubs in April and June.
Yanez is charged with two counts of breaking and entering and assault on a female, and one count of being too "touchy feelie". He is due in court Sept. 17.
PR