I have always been amazed by the fact that every single obituary that I have ever read describes the deceased as being "the best person on the planet." I know that it is not in good taste to speak ill of the dead. After all, everybody is somebody's mother, father, sister, brother, son, or daughter. But I have always found irony in the fact that even the biggest "hell raiser" gets a wonderful obituary. Well, maybe not.
The offspring of a woman who died last month penned a harsh obituary for their late mother, who, the obituary said, spent her life subjecting them to horrible abuse.
Marrianne Theresa Johnson Riddick's obituary, which has since been removed, originally appeared in the print and online edition of Nevada's Reno Gazette-Journal on this week.
Marianne Theresa Johnson-Reddick born Jan 4, 1935 and died alone on Aug. 30, 2013. She is survived by her 6 of 8 children whom she spent her lifetime torturing in every way possible. While she neglected and abused her small children, she refused to allow anyone else to care or show compassion towards them. When they became adults she stalked and tortured anyone they dared to love. Everyone she met, adult or child was tortured by her cruelty and exposure to violence, criminal activity, vulgarity, and hatred of the gentle or kind human spirit.




On behalf of her children whom she so abrasively exposed to her evil and violent life, we celebrate her passing from this earth and hope she lives in the after-life reliving each gesture of violence, cruelty, and shame that she delivered on her children. Her surviving children will now live the rest of their lives with the peace of knowing their nightmare finally has some form of closure.




Most of us have found peace in helping those who have been exposed to child abuse and hope this message of her final passing can revive our message that abusing children is unforgivable, shameless, and should not be tolerated in a "humane society". Our greatest wish now, is to stimulate a national movement that mandates a purposeful and dedicated war against child abuse in the United States of America.



Gazette publisher John Maher said that the obituary was submitted through a "self-service online submission." He also said the online version has been removed while the paper looks into how it got on the site and in the paper.
There's no better way to learn than hands-on experience, and hopefully that's especially true for one law student who wasn't doing so hot in the classroom.
Jackson Milkman, who is currently in his third year at Thomas Jefferson School of Law, is reportedly suing the school after school officials told him he must retake a course in order to complete his law degree program. Ironically, area of study he failed is Civil Procedure, the course that teaches people how to file lawsuits.
According to local media,
"After a generally successful second year, Millikan was told he had to retake Civil Procedure II. Millikan then went to his summer job. Having heard nothing more on the subject of 'you have to pass Civil Procedure,' he returned to school."
He took this to mean something entirely different than what we might take it to mean…
He decided school officials had decided he didn't need to take the course after all. Passing off his responsibility to follow up on something important, then deciding to sue when he's wrong?"
He decided that they decided? Well i've decided that Milkman must have brain damage.
Then Milkman thought the best course of action would be to write a 60-page complaint against the school seeking relief.
Then again, he doesn't appear to be a master of making great decisions. Thomas Jefferson School of Law is a second-tier school, also known in the legal community as "barely a law school." With extremely low job placement numbers and high tuition, it seems this student has much more to worry about than having to retake a single course, like, say, whether he prefers to spend the next decade eating Ramen Noodles or Campbell's Soup. Top Ramen used to be my personal favorite when I was young and foolish. 4 for a $1, or 6 for a $1 at Western Beef.
Fortunately, if law doesn't work out for this guy, he could always find work as a circus clown. Obviously he has a knack for comedy.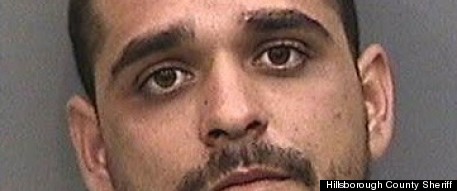 Does the stand your ground law apply to shooting yourself?
Well if guess if you're your own worst enemy it just might.
Cruz was banned from owning a gun after a 2012 conviction on cocaine trafficking charges. That could be why he threw the gun in a lake after he shot himself. He reportedly wouldn't tell deputies where he obtained the weapon.
He was arrested and charged with being a felon in possession of a firearm, carrying a concealed firearm, tampering with evidence, and being a complete fool. He was released Tuesday on $11,500 bail.