My little one loves her kids meal, and each and every time we go out for fast food, she just has to have one. There is usually some little toy inside that she can't wait to have. But as one family found out, not all kids meals have toys.
Although finding a packed marijuana pipe in a fast-food meal might make some people very happy, the Michigan customer who discovered the drug paraphernalia in his 4-year-old grandson's meal was not pleased.
The grandfather called police when he found the pipe in a Burger King Kids Meal purchased Tuesday at a franchise in Dundee, Mich., according to local news sources.
"He handed the ... meal ... to his 4-year-old grandson, and when they opened it up they found a loaded marijuana pipe inside," Dundee Police Chief David Uhl told Toledo News Now.
The customer also wrote down the license plate of a car full of young people he had spotted outside the restaurant and deemed "suspicious," according to Uhl. Officers who arrived at the Burger King were able to track down the car, which was found to contain, surprise, even more marijuana.
Upon further questioning, a 23 year old employee admitted that the pipe was his and that he had placed it in the meal to hide it while working, according to reports.
Both the employee and two young men from the car, ages 18 and 20, were cited for possession of drug paraphernalia. They were then released but could face further formal drug possession charges. Neither of the other suspects worked at the Burger King.
The next day Burger King introduced its new "Ganja Bacon Ranch" burger.
Hmmm, what a coincidence.
Know we know why he has that permanent, weird look on his face.
Imagine coming home after a long, hard day only to find out that your home is gone, and there is a concrete slab where your American dream used to be.
David Underwood was having a hard time finding his house over the weekend.
He and his wife were searching everywhere for the Fort Worth, Tex., property that had been in their family for years. They thought the home had vanished, and they were right. The city confirmed Monday that its demolition crews leveled the wrong house.
A few weeks ago I complained about the city not picking up my trash. But at least my house was still there.
"We came around Silver Creek looking for the lot and my wife said, 'David, I think the house is gone,'" Underwood said. "We looked up there and sure enough, it's gone!"
The three-bedroom, ranch style home, which sat on a lake, was once owned by Underwood's grandmother. It was nearly empty but not condemned like the house next door, the house that was actually due to be demolished. Instead, crews took Underwood's home, valued at $82,000, which he planned to fix up and move into.
All that's left is a cement foundation.
The city's code compliance office confirmed the epic blunder with an oh-so-apologetic statement to reporters:
On July 12, 2013, contractors demolished the wrong property on Watercress Drive. The property to be demolished should have been 9708 Watercress Dr. The property that was demolished was a vacant structure located at 9716 Watercress Drive.
Underwood's neighbor tried to alert city officials when demolition crews showed up at the wrong doorstep on Friday. Apparently, the warning didn't work.
It was later reported that Underwood's jilted high school sweat heart was part of the demolition crew, and was seen crying behind the wheel of the bull dozer. Could be.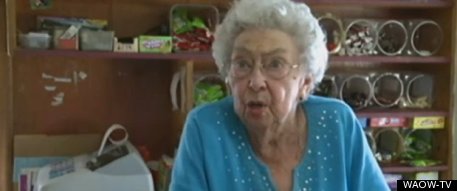 One of the worst things that you can do is underestimate someone based on their appearance. Looks have nothing to do with heart, as one low life criminal had to find out the hard way.
A masked robber apparently thought the 96-year-old owner of a neighborhood grocery store in Marshfield, Wisconsin would be an easy target for his crime. But, he was so wrong.
Margaretta Wolf has owned the store bearing her family name for 54 years. And she wasn't about to turn over her cash to the armed intruder after he ordered her to open the cash register.
"I said: `I'm not opening up that cash register and that's it, I'm not opening it. I said you can have all the Tootsie Rolls you want but I am not opening that cash register,'" said Wolf.
The man in the silver mask and carrying a knife continued to give Wolf orders during the robbery attempt Monday.
"He said, `Walk in the back of the store,' I said, `I'm not walking no place, I'm standing right here,'" Wolf recounted.
The elderly store owner stood her ground when the man flashed a pocketknife and placed it on the counter.
"I said, `I'll press a button and I'll have somebody here in seconds,'" she said.
Wolf said the would-be robber appeared frustrated, looked around, spotted a security camera in the corner, grabbed the knife and fled.
Marshfield Police Lt. Darren Larsen said he's just glad Wolf is OK.
I'll bet the would be robber is glad that he's OK. If he didn't leave when he did, grandma dynamite would have probably cut him with his own knife.
PR