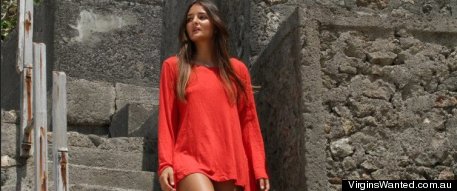 Do you actually have to have sexual intercourse to be a prostitute? The answer is......NO!!
The woman who became an Internet sensation by auctioning off her virginity for $780,000 now says that she was tricked and exploited and that she's still a virgin.
Catarina Migliorini, a 21-year-old woman from Brazil, now says that the highly publicized Internet auction last October, organized by filmmaker Justin Sisely, has turned into a giant fiasco.
"I felt I was a victim ... I was misled by Mr. Justin Sisely," Migliorini said. "I believe he is trying to defraud me and others.
"
Really?! Who ever heard of a pimp defrauding, and misleading a prostitute?!
A 53-year-old Japanese millionaire who identified himself online as "Natsu" placed the winning bid for Migliorini. But when she went to meet him in a restaurant in Sydney, Australia, he didn't match the description Sisely gave her. Nor did they ever have sex.
What's more, she claims Sisely didn't cover her traveling expenses or give her the money promised.
Sisely denies Migliorini's claims. "We have the footage to prove otherwise,"
Some things are just way too expensive.
$780,000 for some...............
Some people are stupid, and then some people are Anthony Thomas.
Just about every job requires a job application. Prospective employers need an idea of a prospective employees proficiencies and experience. As a rule of thumb, professional attire, and proper grooming are essential. Oh, and by the way, try not to rob the place after you fill out the application!
One Florida job applicant found a bold new way to stand out from the competition.
Police say Anthony Thomas, age 33 filled out an application at a gas station in Ocala, Fla., immediately before robbing the place, according to local media reports.
Apparently he was very thorough in the application, though, because police were able to use the details he provided to track him down after the robbery.
Thomas filled out the form at around 10 a.m. Tuesday, and shortly thereafter, he allegedly reaced into the cash drawer and grabbed about $130, according to the Ocala Star Banner.
Investigators say the theft was caught on surveillance video.
Police say Thomas tried to fight them off but failed. He told them, "I didn't rob no store."
According to the manager of the store Thomas called about an hour after being arrested. Using his one phone call to inquire as to what the status of his job application is.
Just kidding, but it wouldn't surprise me.
No word on whether he got the job.
After a bad breakup, moral support can be found in the most unlikely places.
Even, it seems, on takeout containers. On Monday, "Sam", a Reddit contributor, posted the message the staff at Truly Vegan in Los Angeles scribbled on her takeout box after she ordered some food online and left some pretty specific directions in the special instructions box: "Please draw something uplifting on the container, I just got dumped," she wrote.
Here's what they drew:
"I was very very pleased with the result," Sam said. "I've kept the container. I look at it when I feel particularly down about this relationship, or when some other dude does some other stupid dude thing."
Our hats are off to you, staff at Truly Vegan. Underlining "have a nice day" and adding a few extra smiley faces would have sufficed, but this is so much better.
One word......awesome, and worth at least a $10 tip.
PR