The investigation into the suspicious death of Sandra Bland is being treated like a murder investigation, a district attorney said Monday. Probably because it is a homicide.
Police say they found the 28-year-old dead last week after she hung herself with a plastic bag inside a jail in Walter county Texas, where she was incarcerated after allegedly assaulting an officer during a July 10th traffic stop.
The Texas Rangers and the FBI are investigating her death.
"It is very much too early to make any kind of determination that this was a suicide or a murder because the investigations are not complete," Waller County District Attorney Elton Mathis told reporters. "This is being treated like a murder investigation."
He said the case would go to a grand jury.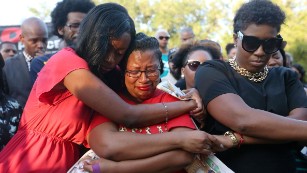 "There are too many questions that still need to be resolved. Ms. Bland's family does make valid points that she did have a lot of things going on in her life that were good," Mathis said.
Bland lived 1,000 miles away in the Chicago suburb of Naperville, Illinois, but was in Texas because she was taking a job as a student ambassador to the alumni association at Prairie View A&M University. She graduated from the historically black school in 2009.
The Texas Department of Public Safety, whose trooper pulled over Bland for allegedly failing to use her signal while changing lanes, has issued a statement saying Bland became "argumentative and uncooperative" and was arrested on a charge of assaulting a public servant.
According to a sheriff's office statement, she was found "in her cell not breathing from what appears to be self-inflicted asphyxiation." Bland received CPR, and an ambulance was called, but she was pronounced dead a short time later.
Many people have questioned the police account of Bland's death. Those who know her say she was anything but suicidal.
"Based on the Sandy I knew, this is unfathomable to me," Sharon Cooper, one of Bland's sisters, told reporters in Chicago. "People who knew her, truly knew her, the depth of her, that's unfathomable right now."
There were no cameras inside Bland's cell but cameras in the hallway showed no one entering or leaving before her body was discovered, Mathis has said, and now never before seen
Dashcam video of Sandra Bland's arrest has been released causing
many to question whether she should have been arrested at all.
The dashcam video shows Texas state Trooper Brian Encinia pulling Bland over July 10 for allegedly failing to use her turn signal. What started as normal conversation gets testy after Encinia asks her to put out her cigarette.
"I am in my car. I don't have to put out my cigarette," Bland says.
"You can step on out now," Encinia replies.
Bland refuses to get out of her car, and the trooper opens her door and starts trying to pull her out of the vehicle.
What happens after that has ignited a debate about what the officer could have done versus what he should have done.
'For a failure to signal?'
In the video, Encinia tells Bland she is under arrest. She repeatedly asks why, but the trooper does not answer, other than to say, "I am giving you a lawful order."
They argue, then Encinia pulls what appears to be his Taser and points it at Bland.
He screams: "Get out of the car! I will light you up! Get out! Now!"
Bland then exits the car of her own accord, saying: "Wow, really, for a failure to signal? You're doing all of this for a failure to signal?"
Much of what happens next is not seen on camera, but the officer can be heard saying Bland is not compliant.
"When you pull away from me, you're resisting arrest," Encinia says.
A clearly upset Bland can be heard saying: "You're a real man now. You just slammed me, knocked my head in the ground. I got epilepsy you mother******."
"Good," he replies.
A female officer tells Bland she should have thought about that before she started resisting.
Technically, a driver can get arrested in Texas for simply failing to use a turn signal.
In the video, Encinia tells Bland he intended to give her a warning -- until she failed to comply with orders and repeatedly cursed at the trooper.
The Texas Department of Public Safety released almost an hour of dashcam video. But in parts of the footage, the video is looped while the officer's audio continues uninterrupted.
For example, there are moments when a car or a tow truck driver appears in the frame, suddenly disappears and then appears once again.
But the video of the traffic stop was not edited, according to Texas Department of Public Safety public information officer Tom Vinger. "There was a technical issue during posting later in the video, and we are working to correct," Vinger said Wednesday. But anyone who watches the video can plainly see that it has been altered.
This is my theory. Sandra Bland was murdered, and it was made to look like a suicide. She was probably choked to death and the easiest way to simulate choking is hanging.
PR