This little girl has a warm, giving, heart of gold.
When Helaina Morgan learned that a mom in Syracuse., N.Y., needed food stamps to feed her family the 7 year old went straight to her piggy bank.

She'd heard the story of single mom Meghan Fry from her own mother, Roberta, who'd read about Fry's struggles in the local paper.

"When I told [Helaina] that this family usually didn't have extra money to buy ice cream, cookies or gummies, she actually gasped," Meghan said, "then asked me if we could bring them some food."

Morgan told her that'd be difficult to do. She decided to send Fry a gift card for extra groceries, but Helaina wanted to act, too. So the 7-year-old gathered up $10 and penned a letter to Fry's 3-year-old daughter, Essence.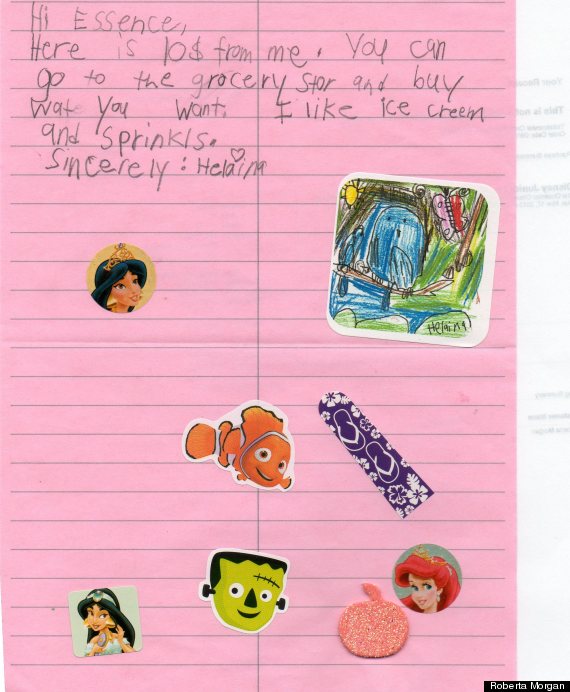 "We thought it was adorable, complete with spelling errors,"

The note reads:


Hi Essence, Here is $10 from me. You can go to the grocery stor and buy wat you want. I like ice cream and sprinkls. Sincerely: Helaina.


"This is the first time she's done anything like this," Morgan added. "But it didn't surprise me. She's always cared very much about her friends. And she's getting to the age where it's time for her to realize that there are others out there who aren't as fortunate as us."

Morgan went on to say that Helaina's jaw dropped when she heard the Post Standard had printed her letter. The 7-year-old hasn't heard back from Essence yet, but her mom is hopeful that they'll get in touch soon.

"We hope they can at least talk on the phone some time," Morgan said. "It would probably be a cute conversation."
When I was a 9 year old chubby kid growing up in Brooklyn, the worst thing that I did was sneak into the kitchen and make a bologna sandwich when everyone was asleep. But I was never able to sneak across the country. Were you?
A 9-year-old runaway went through security at the Minneapolis-St. Paul International Airport, boarded a plane without a ticket and flew to Las Vegas, an airport spokesman said Sunday.
Security officials screened the Minneapolis boy at the airport shortly after 10:30 a.m. the Thursday before after he arrived via light rail, Metropolitan Airports Commission spokesman Patrick Hogan said. The boy then boarded a Delta flight that left for Las Vegas at 11:15 a.m.
The flight crew became suspicious mid-flight because the boy was not on the list of unattended minors. The crew contacted Las Vegas police, who met them upon landing and transferred the boy to child protective services, Hogan said.
Minneapolis Police Sgt. Bill Palmer said officers talked to the family after Las Vegas police contacted them. A family member said the boy ran away and had last been seen early Thursday.
Side Bar: Don't hide your face now! You weren't hiding it when you were trying to be grown!
I know the adage goes "let him who is without sin, cast the first stone," but there are some people who actually deserve to have stones thrown at them.......with the greatest sin being utter stupidity.
Meet
televangelist
Rick Joyner,
who recently made headlines for openly praying to God for a military takeover of the U.S. government. While appearing on "The Profetic Perspective On Current Events",
Joyner claimed that democracy in America has failed and that the nation might not last even to the end of President
Obama's
term.
He also said that the fact that a Negr...., African-American was twice elected president was a sure sign that democracy has failed.
Actually, no, he didn't say that. But you and I both know that he wanted to.
PR