This courageous young man cannot speak, and yet, he speaks volumes. Many of us speak. But we say nothing at all.
Dillon Barmache has spent his life struggling to communicate with the people around him.

The 14 year-old, who is non-verbal because of his autism, got an opportunity to address the graduating class of Hale Charter Academy. Using a tablet that read his words out loud, Dillon stood at the podium with a microphone to address the class.

"With your mind no one can place limits on where an idea can take you," Dillon said during his powerful speech. "Living without a voice creates almost no way to be heard, but there are people who refuse to think in a box."

He went on to explain his anticipation for high school and challenged his classmates to take educational risks.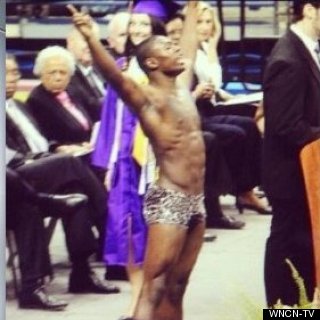 SIDE BAR: I'M....COMING....OUT!
Graduation is a milestone worthy of celebrating. SO...CELEBRATE! But please DON'T do what this crazy fool did!
Quinton Murphy was strutting cross the stage during his high school graduation from Jack Britt High School in Fayetteville, North Carolina on Wednesday night when he suddenly stripped down to a pair of leopard-print skevees.

The stripping surprised many in the audience, which largely erupted in laughter.


The senior definitely had the pomp, but school officials fumed that it wasn't the right circumstance to tear off his ceremonial gown, and spread his wings like a psycho butterfly.

When he walked offstage still in his leopard ski undies, police officers escorted him to another area, Cumberland County School Superintendent Dr. Frank Till told the local media.

"Our schools have worked so hard," Till told the paper. "It used to be that the audience would be disruptive at graduation. We've worked hard to get the audiences to respect our students. This young man chose not to show respect for his colleagues."

Once Murphy was taken away, the ceremony continued as if nothing had happened.

Murphy was not arrested, but he's been stripped of his diploma. He is also barred from the school's property and events like football games, MyFox8.com reports.

Even though Murphy won't get the piece of paper, he will still be considered a graduate and will be credited as such on his transcripts.

Meanwhile, there are a few other high school graduations scheduled in Cumberland County, but Till is warning students there will be "long-term consequences" for anyone who shares Murphy's naked ambition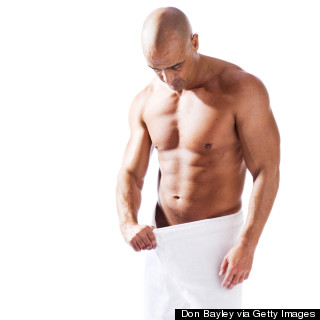 SIDE BAR: That look on your face when you realize that something's not quite right.

Talk about getting the short end of the stick!!!!!
A Canadian man is suing a Montreal-area hospital for negligence after he said surgery on his penis ended up shortening it and preventing him from having sex, thus ruining his marriage.

The man, who is a paraplegic, injured his penis while having sex with his wife in July 2011, according to the lawsuit.

Following the injury, the man saw a nurse at the hospital, which is in the suburb of Le Gardeur. The suit claims that the nurse looked at but did not physically examine the man's penis, which led an off-site doctor to misdiagnose it as minor trauma. It was only weeks later that it was discovered that the man had in fact fractured his penis.

"This has caused a greater impact on my life than when I lost the use of my legs," the man told Canada's QMI Agency, who withheld his name.

He underwent surgery to correct the injury, which the suit claims left permanent scarring and reduced his penis "about an inch" in length. The plaintiff says that he was left unable to have sex for two years, which caused his wife to leave him.
Well, that's the long and the short of it.......rim shot!!

PR