This is the best idea ever!!!
It's a tale of two tax brackets.
A Wisconsin lawmaker wants wealthy Americans to pass drug tests just like welfare recipients in order to cash in on hefty tax breaks.
Rep. Gwen Moore (D-Wisc.) proposed a bill, called the Top 1% Accountability Act, which would force taxpayers who bring home more than $1 million annually to get tested for drugs, or else settle for less than their $150,000 itemized deductions.
Of course it will probably never happen. But the idea is awesome!
"We're not going to get rid of the federal deficit by cutting poor people off SNAP (Supplemental Nutrition Assistance Program.) But if we are going to drug-test people to reduce the deficit, let's start on the other end of the income spectrum," Moore told the Guardian, explaining that the way the super rich receive tax breaks is not unlike other public assistance.
Dustin Diamond was arrested again for failing drug test
The bill is unlikely to pass in the Republican-controlled Congress, but Moore hopes the novel legislation will at the very least "engage the wealthy in a conversation about what fair tax policy looks like," she said.
At least 15 states have passed legislation that requires drug testing or screening for people who rely on public assistance, including SNAP.
States have started applying onerous requirements for welfare recipients since federal welfare reform in 1996.
Opponents of welfare drug-testing say it's a double standard and a form of policing poor people who rely on public assistance.
"Why aren't my Republican colleagues calling for drug testing for wealthy CEOs and oil company executives who receive taxpayer subsidies?" Rep. Jim McGovern (D-Mass.) said in February in response to an attempt to pass federal legislation to drug test food stamp recipients."Why is it that they always pick on poor people? It's a lousy thing to do."
Proponents of forcing welfare and food stamp recipients to pass drug tests to get benefits say it will save state money by getting drug abusers off government aid.
Moore told the Guardian she was inspired to author her new bill when she heard Speaker of the House Paul Ryan give a speech in front of a drug treatment center in Anacostia, a predominantly black neighborhood in Washington, D.C.
"When he stood in front of a drug treatment center and rolled out his anti-poverty initiative, pushing this narrative that poor people are drug addicts, that was the last straw," Moore said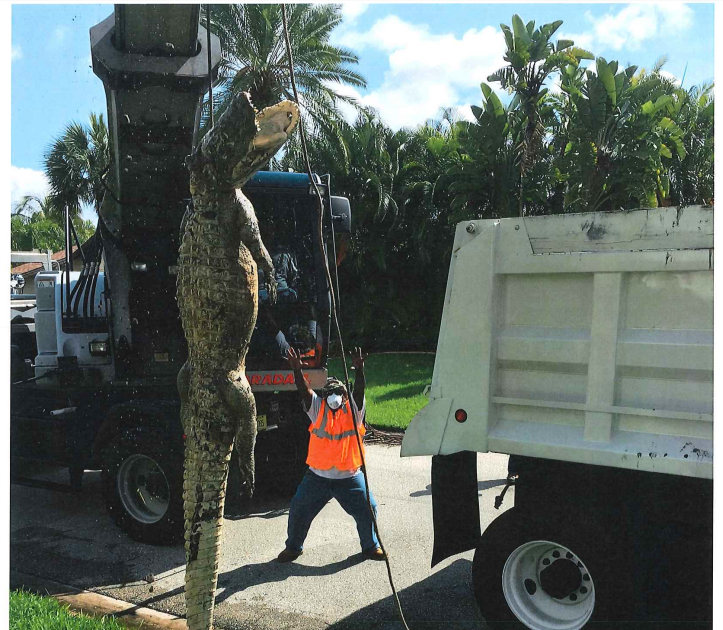 Authorities say an "abnormally large gator" was pulled from a southwest Florida neighborhood's storm drain Monday following calls to the sheriff's department about a foul smell.
In a statement, Lee County officials say they determined that the odor was consistent with a decaying alligator. What they found beneath the ground, however, was described as highly unusual.
Inside the 4-foot-wide catch basin, Department of Transportation officials reported hooking an 11-foot-long gator, one they were photographed hauling out of the Whiskey Creek neighborhood with an excavator.
Lee County's DOT says they typically handle one to two dead alligators in storm drains a year but rarely ones of this size.
"DOT generally is alerted to such situations by reports of odor coming from a catch basin or when drainage is backed up for no obvious reason," the county said in an emailed press release.
Lee County DOT Director Randy Cerchie called it business as usual.
"This was an abnormally large gator, but removal is part of what we do," he said in a statement.
County spokeswoman Betsy Clayton told the News-Press that the gator likely entered the storm drain through the pipes.
The big question: How did it get in? The county describes the pipes leading to the drain as only about 14-inches by 24-inches.
"We don't usually see gators that big because our pipes are not that big," Cerchie said.
According to the Florida Fish and Wildlife Conservation Commission, female American alligators rarely grow larger than 10-feet in length. Males can grow much larger, however.
The largest gator ever found in the state was 14-feet, 3 1/2-inches in length, the FWC reported.
The Lee County gator's body was hauled away in a dump truck to a DOT site that's designated for dead animals, and there it was buried, the county said.
Easy come, easy go, easy gone...
Servers at a Thai fusion restaurant in Edgewater, Colorado thought they'd hitthe jackpot on Monday when a customer dropped a $1,088 tip in cash for a $60 meal.
But their elation sadly didn't last for long, as the diner returned to the Thailicious eatery the following morning to ask for the bills back.
It turns out he'd drunk a little too much alcohol and had mistakenly stuffed the cash inside the checkbook, The Denver Post reported.
Thai-born Anantatho, also known as Bee, immigrated to the U.S. with her husband, Surachai Surabotsopon, five years ago. She said she was "disappointed" for her staff.
Luckily she'd told her employees to keep hold ofthe money and they were able to pay the man back immediately. He ended up leaving a still-generous $40 tip, and Anantatho is confident that she dealt with the awkward situation in the best possible way and that the man will return as a customer.
"It's just the way it is," she said............
$1000 what $1000?!?!??
PR